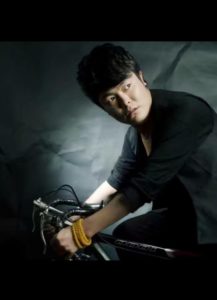 Chinese authorities must release from detention a popular Tibetan singer unjustly sentenced for peacefully expressing dissent against Chinese rule, the Tibetan Centre for Human Rights and Democracy (TCHRD) said today. Lhundrub Drakpa, 36, was sentenced to six years in prison for performing a song that criticised repressive government policies in Driru (Ch: Biru) County, Nagchu City/Prefecture, Tibet Autonomous Region (TAR), in the Tibetan province of Kham.
The song "Black Hat" denounced years of repressive policies and practices that have resulted in a series of human rights violations and acts of 'crimes against humanity' in Driru as well as the neighbouring Sog (Ch: Suo) County. Events in Driru, documented by TCHRD since 2013, reveal that Chinese authorities were responsible for the arbitrary detention, enforced disappearance, torture, and extrajudicial killings of hundreds of Tibetans.
Drakpa had been detained briefly several times between 2013 and 2014 in connection with another song called "Tashi Yardo" for which he collaborated with the famous singer Gonpo Tenzin, who was later sentenced to prison. The imprisonment of Gonpo Tenzin and another singer named Trinley Tsekar was part of a widespread and systematic crackdown on peaceful dissent in Driru.
Despite being under surveillance of local authorities, Drakpa continued to post short verses expressing pride in Tibetan culture and traditions and at the same time lamenting the destruction of natural environment and Tibetan language on his WeChat account. "Until the end of 2015, he used to post these verses and I knew then that he would be arrested any day," Jayang Choephel, elder brother of Drakpa told TCHRD earlier today from his monastery in the southern Indian state of Karnataka. "His online posts also criticised the destruction of farmlands and land grabbing by local authorities to construct urban housing facilities."
Since 2016, Choephel has not been able to contact his brother because the county authorities had started implementing a directive banning local Tibetans from maintaining any contacts with Tibetans in India or face imprisonment and forfeit the right to harvest caterpillar fungus, the main source of income for many in Driru.
Lhundrub Drakpa is known for his great love for Tibetan cultural and artistic traditions particularly folk traditions. As one of the most popular Tibetan singers in the region, his songs overwhelmingly focus on asserting Tibetan national identity and expressing pride in Tibetan culture and traditions as a way of voicing dissent and countering the false propaganda of Chinese authorities.
Drakpa was born in 1984 to Mr Tenzin Sonam and Mrs Drolkyi in Mokhyim Village, Driru County. As the second youngest among six siblings, he attended six years of schooling at the township school before completing his three years middle school and three years high school in Nagchu town.
Below is a translation of the song "A Black Hat" sung and performed by Lhundrub Drakpa:
ཞྭ་མོ་ནག་པོ།
Black Hat
ལྷག་བསམ་དྲང་བདེན་ཆེ་བའི་མི་རིགས་ཤིག་ལ།
གཡོ་སྒྱུའི་ཞྭ་མོ་ནག་པོ་བཙན་གྱིས་གཡོགས་སོང་།
ཞྭ་དེ་མ་བཤུས་ལོ་དང་ཟླ་བའི་ཁྲོད་ནས།
མི་འདོད་སྡུག་གི་དམྱལ་བ་ས་ཁར་མྱང་སོང་།
A noble and truthful nationality
Forced to wear a black hat of subterfuge
Months and years of wearing the hat
Enduring undesired hell of suffering on earth
ཡིད་བཞིན་ནོར་ལས་ལྷག་པའི་སྐད་ཡིག་ཅིག་ལ།
ཐབས་ཇུས་སྟོང་གི་དྲ་བས་ལྐོག་ནས་བསྡམས་སོང་།
དྲ་དེ་མ་གློད་ལོ་དང་ཟླ་བའི་ཁྲོད་ནས།
གདོང་དམར་ས་ཡ་དྲུག་གི་ངག་སྒོ་འགག་སོང་། 
A language more valuable than wish-fulfilling jewel
Chained by a net of thousand strategies
Months and years without loosening the net
Gagged the speech of red-faced six million Tibetans
ཉི་མ་སྤྲིན་གྱིས་བསྒྲིབས་པའི་ལོ་དང་ཟླ་བ། 
ཟླ་བ་སྨག་གིས་ཟོས་པའི་ཉིན་དང་མཚན་མོ། 
འཇིག་རྟེན་མུན་པས་བཟུང་བའི་དུས་ཀྱི་ཡུན་དེ།
ང་དང་གངས་ཅན་བོད་པའི་ཕམ་ཁ་ཡིན་སོང་།
Months and years of the cloud-covered sun
Days and nights of the darkened moon
The time when gloom enveloped the universe
Became the defeat for me and all Tibetans