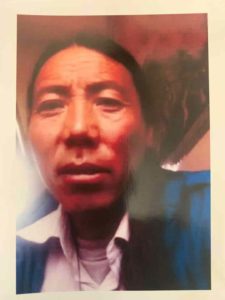 The Tibetan Centre for Human Rights and Democracy (TCHRD) has been informed by reliable sources about the arbitrary detention of Mr Wangchuk in Shigatse (Ch: Xigaze) Prefecture, Tibet Autonomous Region.
According to the information received, Mr Wangchuk, 45, was detained by Chinese police officers around 8 March this year. He was detained from Shigatse city while he was returning from one of his business trips to Lhasa.
There is no confirmed information about the exact whereabouts of Wangchuk. His family members however believe that he had been sentenced and imprisoned at Nyari Prison in Shigatse.
Sources told TCHRD that Wangchuk was probably detained for sharing some books including teachings of the Tibetan spiritual leader His Holiness the Dalai Lama and a Tibetan translation of The Noodle Maker of Kalimpong on WeChat, the Chinese messaging and social media application. He had received copies of these books from his friends living outside Tibet.
There is no information on whether any trial had taken place to imprison Wangchuk. His family members were not informed about the arrest or the charges for which he was convicted.
Since his arbitrary detention, Mr Wangchuk's family members have been subjected to unlawful restriction and punishment. Local authorities have cancelled the family's welfare benefits including subsidies and old-age insurance of the family. The family members are restricted from travelling outside the county without written permission from the township government office. Increased surveillance from local authorities has disrupted the lives of the family members.
Wangchuk's arbitrary detention has taken a toll on the health of his aged mother Mrs Tsewang, who suffers from hypertension and unstable heartbeat.
Wangchuk has a large joint family comprising his parents, Mr Dorjee and Mrs Tsewang, in Karchung Village in Zurtso Township in Nyalam (Ch: Nielamu) County, Shigatse Prefecture. He has an elder brother and a younger brother with whom he entered into a polyandrous marriage. The three brothers share 5 children – three sons and two daughters. As a smalltime businessman selling his wares in Lhasa and sometimes in the Dram border town, Wangchuk was the most capable breadwinner of the family. It is feared that his imprisonment will add to the family's growing financial burden and make it harder to even pay the children's school fees.
TCHRD notes with concern that Mr Wangchuk's arbitrary detention and his family's ongoing harassment is the direct result of increased online censorship and deteriorating human rights situation in Tibet. Last week, the TAR internet police issued a series of cartoon strips in Tibetan and Chinese to dissuade the general public from expressing themselves freely on the internet. The instructions contained in the cartoon strips largely reflect the numerous notices released in recent years by Chinese authorities in Tibet including the warning that not following government instructions on internet use would result in the fixed-term imprisonment of one to eight years.
TCHRD expresses great concern over the fate and whereabouts of Wangchuk and condemns his arbitrary detention in the strongest terms. TCHRD calls on the Chinese authorities to stop harassing and persecuting Wangchuk's family members and restore all their welfare benefits and human rights with immediate effect. TCHRD further urges the Chinese authorities to release Wangchuk immediately and unconditionally because his imprisonment violates established human rights and international law. Freedom of expression and opinion is guaranteed in Article 19 of the Universal Declaration of Human Rights and International Covenant on Civil and Political Rights. It includes the right to seek, receive and impart information and ideas of all kinds and through any medium.